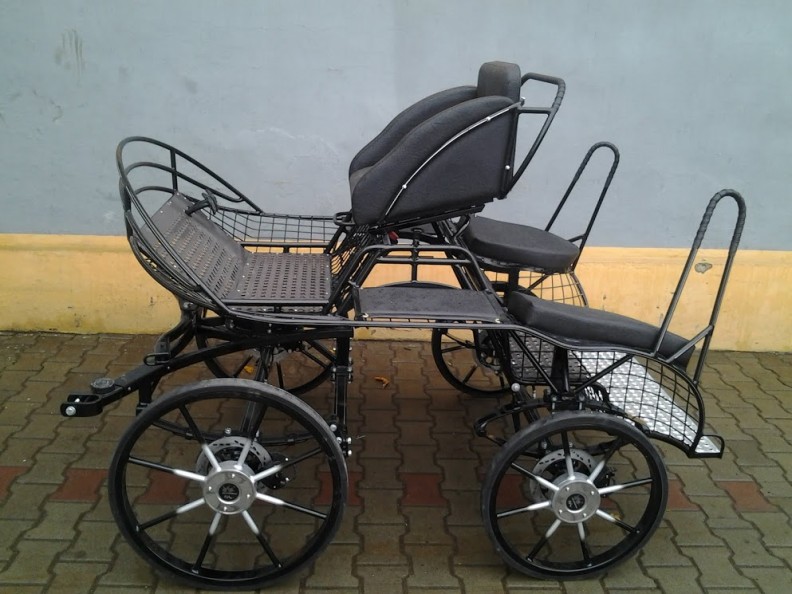 Fox Pony Single Three Phase Marathon Carriage (FXP1) From £3820
Single Marathon vehicle. Solid construction, can take the pressure of hard marathons. Nice looking sport carriage.
Suit 12-14hh  155Kg
Standard Details.
Carriage width: 125cm.
Wheels:

 PNWH Pneumatic Knobbly Tyres,
Spokes Straight or curved in painted steel.

Brakes: Rear wheel, stainless discs and parking brake. Pedal RHS
Shafts: Independent or "U"
Shaft Tips sizes IS2 or 3. Tips T1, 2, 3 or 4  painted.
Seat: Single wedge in front, rear seat marathon type without back support.
Upholstery: Eco leather gniot.
Suspension: SPR1 Three point spring system front and elliptical rear.
Options Available.(For prices please see "OPTIONS" page under Four Wheeler Options Prices.

)
Wheels. Hard Rubber
Spare Wheel Set with hard rubber tyres
Brakes: Front axle brakes
Custom Pedal Position
Spokes 'D' Double Banana . Model 'V' or 'V45'. Stainless Spokes.
Turntable Brake: Pedal in front or handle for groom
Shaft tips: TET telescoping with ertalon tip. Tips in stainless or Galv.
Shafts: Stainless
Rubber Mounted Pole for pair
Rear seat:Removable backs
Upholstery: Polonez
Suspension:AIRSPR1 Air suspension front and rear
Accessories.
Stainless front (dash):
Stainless side pipe:
Stainless groom's handles:
Stainless Steel seat frame for single wedge:
Electrical lighting:
Carriage cover:
Extendable rear axle:
Additional seat for groom dickey seat:
Custom shape of front dash:
Special colour of upholstery :
Strap on groom handles:
Suede seat surface on wedge:
Decorative stitching on upholstery:
Decorative trimming (piping) on upholstery:
Wooden Board on Dash:
Number Holder:
Extension for back step for marathon
Waterproof cover for docs:
Metallic or pearl paint: