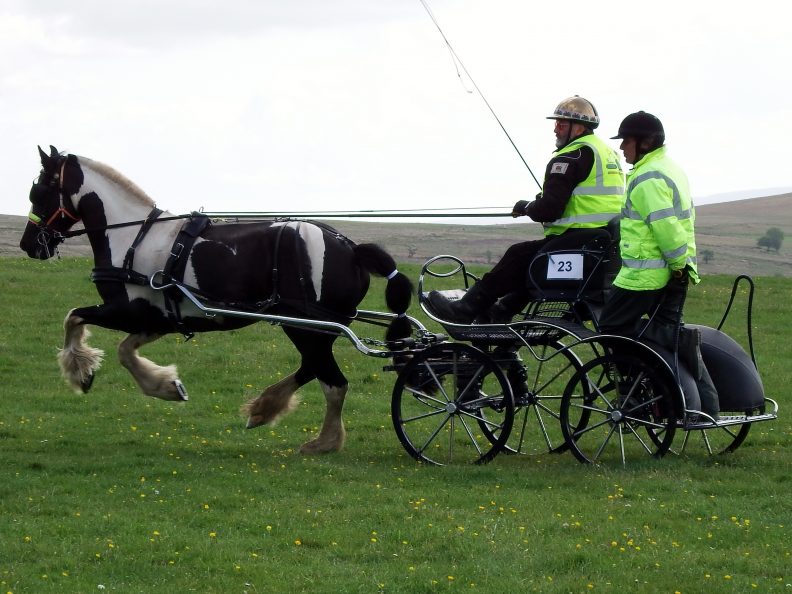 Fox Single Horse (FXH1) National Level or Pair  3 Phase Marathon Carriage. From £3954 (pole for pair available)
The Fox 4, 3 Phase Marathon Carriage is the choice of serious competitors in all three phases of competition. Stability in fast obstacles is aided by the Marek specially designed anti fish-tailing rear suspension layout.
Suits 13.3 to 16.1hh with four sizes of wheels available. Weight of basic carriage with smallest wheels is 180Kg
Many accessories and additions are available to enhance the use-ability such as  slow motion steering, and turntable brake.
Appearance enhancement in the form of stainless steel carriage parts are also available.
Standard Details.
Carriage width: 125cm.
Wheels:

 Hard Rubber  or Pneumatic Knobbly
Spokes Straight or Curved Painted
70cm Front 65cm Rear Suits 13.3hh to 14.2hh, or 75cm Front and 70cm Rear, suits 14hh to 15hh.
80cm Front and 75cm Rear suits 15hh to 15.3hh. 90cm Front and 85cm Rear for over 15.3hh.

Brakes: Rear wheel, stainless discs and parking valve. Pedal RHS
Shafts: Independent. Tips T1 Marathon eye, T2 Pleasure, T3 Holland, T4 Swan Neck  painted.
Seat: Single wedge in front, rear seat marathon type without back support.
Upholstery: Eco leather gniot.
Suspension: SPR1 Three point spring system front and elliptical rear with patented stabilisation on rear axle.
Options Available.
(For
Prices

of Options and Accessories please see "

OPTIONS

" page under "

Four Wheeler Options Prices

).
Wheel spokes , Model G Thin Flat.
Spokes in Stainless
Spare Wheel Set Hard Rubber
Brakes: Front axle brakes
Custom Pedal Position
Delayed Steering
Turntable Brake: Pedal in front or handle for groom or both . Handle/Crank in rear with gauge.
Shaft tips: TET telescoping with ertalon tip
Stainless Tips
Shafts: Stainless
Wedge with spring underneath
Rear seat: Removable backs
Suspension:AIRSPR1 Air suspension front and rear. AIRSPR4 Front air and rear independent . AIRSPR5 3point on front and air on rear
Pole for Pairs with Rubber Suspension in painted steel . Pole on sprung shock absorber . Pole in stainless . Painted with stainless head.
Accessories Available.
Stainless front (dash):
Stainless side pipe
Stainless groom's handles:
Stainless Bumpers
Stainless Steel seat frame for single wedge
Wheels in Stainless Steel
Carriage cover
Extendable rear axle
Additional seat for groom dickey seat
Custom shape of front dash
Special colour of upholstery
Strap on groom handles
Suede seat surface on wedge
Decorative stitching on upholstery
Decorative trimming (piping) on upholstery
Number Holder
Wooden Board on Dash
Waterproof cover for docs
Metallic or pearl paint
Groom Holder Adjustable in 3 directions
Pair adaptor with pole and swings