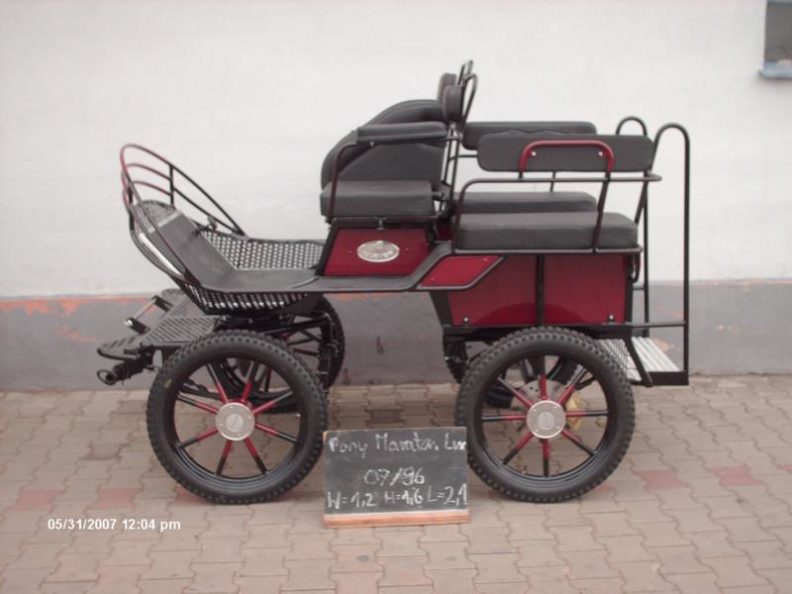 The Lepus Pony single or pair universal everyday carriage. Very comfortable. Suits 13.1 to 15.1hh. From £3330 + VAT
Standard details;
125cm or 140cm  width
Pneumatic Tyres
19 or 21 inch tyres
Curved or straight spokes
Rear Axle Brakes with parking valve.
Independent or 'U' shafts with choice of tips.
Pole with rubber torsion suspension.
Front seat is wedge on right and flat seat on left or flat bench.
Bench rear seats with fixed back supports.
Three Point eliptical spring suspension.
Options. and accessories. (For prices see OPTIONS page.)
Hard Rubber tyres 55 or 65cm diameter.
Spokes in Flat wide, flat thin, double straight, model 2//3, model 'V', model 45  or double banana.
Spokes in Stainless Steel.
Front axle Brakes
Turntable Brake with pedal in front or handle for groom.
Delayed Steering.
Equalizer for swingles in painted steel or stainless.
Telescopic Shaft Tips with ertalon sliders.
Shafts in Stainless
Tips in Stainless.
Pole with shock absorber.
Pole in stainless.
Front seat two wedges
Removeable Back supports on rear benches.
Air Suspension.
Stainless front (dash)
Stainless side pipe
Stainless groom's handles
Stainless bumpers
Stainless Steel seat frame for single wedge
Electrical lighting
carriage cover
Sides in front on the carriage full plate with rubber
Custom shape of front dash
Special colour of upholstery
Suede seat surface on wedge
Decorative stitching on upholstery
Decorative trimming (piping) on upholstery
Wooden Board on Dash
Number Holder
Door at the back of the carriage
Waterproof cover for docs
Long cup for front wheels
Long cup for front stainless steel
Metalic or pearl paint
Panels stain natural wood