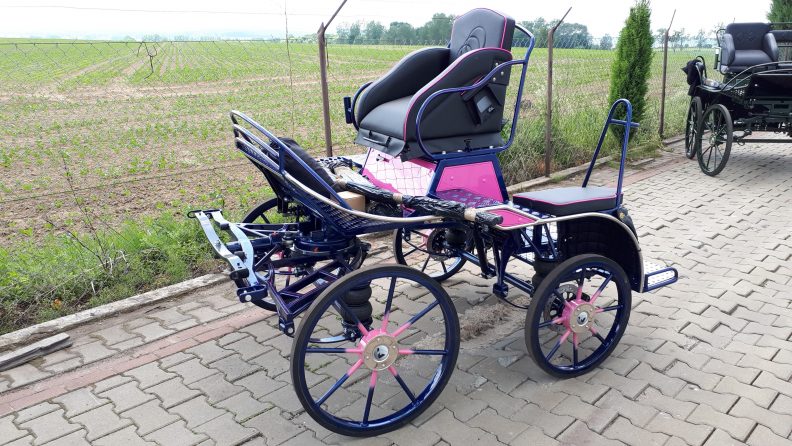 MINI DUO SINGLE (MD15S) From £2578
Small single three phase  marathon carriage. Good looking, stable with many options available. Suit 13.2 to 14.2hh. Weight of basic carriage 175Kg
STANDARD DETAILS:
Width   115cm, 125cm or 138cm
Wheels   Pneumatic Knobbly,  curved or straight spokes painted
Brakes  Rear wheels stainless discs and parking brake. Pedal in centre
Independent Shafts.
Tips painted T1,T2,T3 or T4
Front Seat PS5 single wedge
Rear Seat Marathon type without back support
Upholstery   eco leather gniot
Springs   3 point front and elliptical rear SPR1
Options (for prices please see "OPTIONS" page under Four Wheeler Options Prices ).
Wheels   Hard rubber
Spokes

Curved N/C, double straight or double banana or flat wide
model V or V45
Stainless
Thin Flat

Additional set of wheels hard rubber options as above
Brakes  Front
Customised pedal location
Turntable brake, pedal in front or handle for groom
Delayed steering
Shaft Tips Telescopic with ertalon tip or Stainless tips or Galvanised Tips
Shafts  in stainless
Seats   Front. op8 with spring underneath
Rear  removable back supports
Upholstery Eco leather polonez
Suspension    AIRSPR1 Air front and rear
Stainless front (dash)
Stainless side pipe
Stainless groom's handles
Stainless bumpers
Stainless steel seat frame for single wedge
Electrical lighting
Carriage cover
Extendable rear axle
Dicky seat for groom
Custom shape of front dash
Special colour of upholstery
Leather strap on groom handles
Suede seat surface on wedge
Decorative stitching on upholstery
Decorative trimming (piping) on upholstery
Number Holder
Extension for back step for marathon
Waterproof cover for docs
Long cup for front wheels
Long cup for front stainless steel
Metallic or pearl paint
Panels stained natural wood
Groom holder on seat frame
Odometer