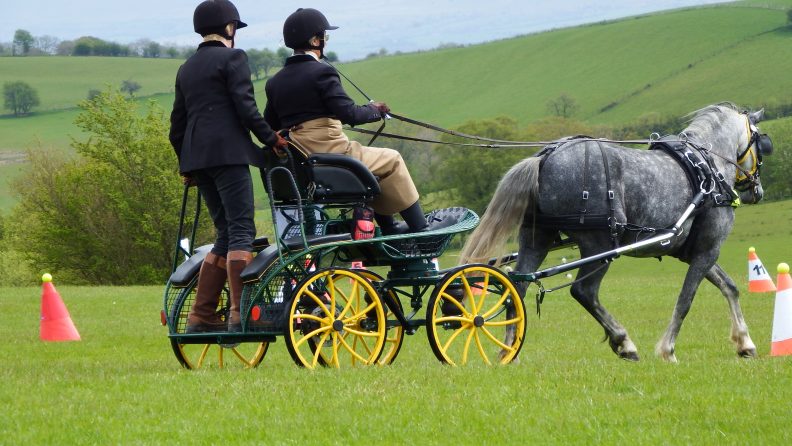 Microfox Single (FR120) Shetland Pony three phase competition carriage. Standard Weight about 128Kg. Suits ponies 9.2 to 11.3hh as a pair or 11.3 to 13hh as a single. From £3358
One of the smallest and lightest pair/single marathon carriages for small ponies.
Extendable axle available along with many other accessories.
See video here https://youtu.be/lwWql3PQACY
Standard Details.
Carriage width 125cm or 110cm
Straight or curved wheel spokes
Hard Rubber  55cm dia or Pneumatic Tyres
Rear axle brake with stainless disc and parking valve.
Pole for Pairs with rubber suspension torsion arm.
"U" shafts for single with swingle with choice of tips or independent shafts with tips and swingle.
Single Wedge front seat
Rear marathon type seat without back support.
Air Suspension
Options Available. (For
prices

please see OPTIONS page under

Four wheeler

option

prices

).
Stainless Wheel Spokes
Front Axle Brakes
Customised Brake pedal position
Turntable Brake
Delayed Steering
Equaliser for swingles in painted steel, in stainless
Stainless Shafts
Tips in Galvanised or in stainless
Pole in Stainless
Four in hand equipment available on request.
Front seat wedge and flat on side
Removable back supports for rear seats
Leather Upholstery
Accessories Available.
Stainless front (dash)

Stainless side pipe

Stainless groom's handles

Stainless bumpers

Stainless Steel seat frame for single wedge

Electrical lighting

Carriage cover

Extendable rear axle

Additional seat for groom ( dickey seat )

Custom shape of front dash

Special color of upholstery

Leather strap on groom handles

Decorative stitching on upholstery

Decorative trimming (piping) on upholstery

Number Holder

Extension for back step for marathon

Waterproof cover for docs