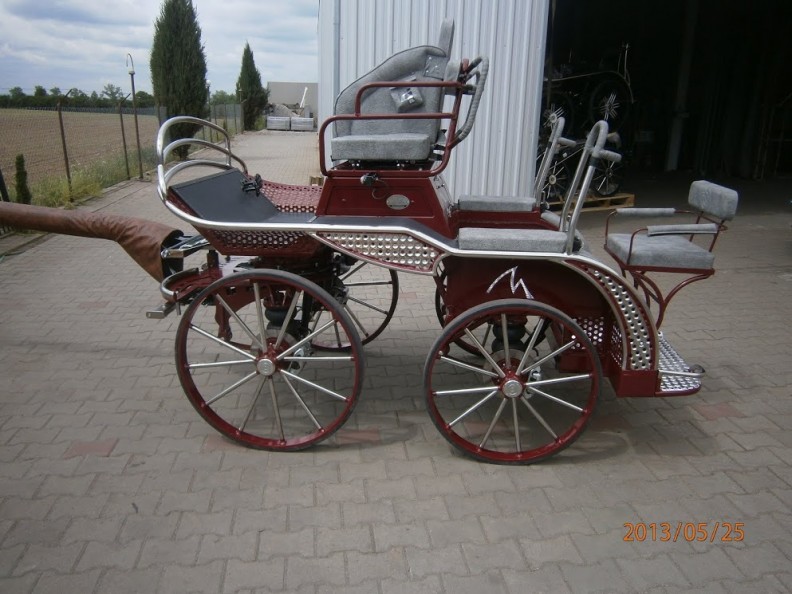 Rhino Pair / 4 in hand three phase professional competition carriage BG600. From £7525
Professional team carriage. Space for 2 grooms, dimensions according to FEI regulations. All neccessary features included. Personal customizing available.
Suits 15.2-18.3hh  Weight 600Kg
Standard Details
Carriage width 125cm
Wheels HRW Hard Rubber tyres or pneumatic tyres.
Spokes Straight or curved. Painted
Rear axle brakes with stainless discs, hand brake and pedal on right.
Turntable Brake op4b. Pedal in front
Delayed Steering OP3 sliding tube with bearings.
op6 b Pole mounted on shock absorber  size D3 in painted steel.
Equipment for 4 in hand hanging type in painted steel.
Front seat. PS5 Single wedge in front.
Back seat. RM rear marathon type without back support.
Upholstery Eco Leather gniot.
Suspension. 3 point spring system front and elliptical rear.
Options. For Prices please see OPTIONS page under

"Four Wheeler Options Prices"
Spokes G; Thin Flat or C; Double straight .  Model V45. Stainless Spokes.
Spare Wheel set hard rubber
Front axle brakes
Reinforced Sports Delayed steering OP3b
Equaliser for swingles painted or stainless
Pole in stainless
4 in Hand fixed mount with additional extension , painted or stainless
Accessories.
Stainless front (dash):
Stainless side pipe:
Stainless groom's handles:
Stainless Bumpers
Stainless Steel seat frame for single wedge:
Carriage cover:
Custom shape of front dash
Extendable rear axle:
Additional seat for groom dickey seat
Custom shape of front dash:
Special colour of upholstery :
Leather Strap on groom handles:
Suede seat surface on wedge
Decorative stitching on upholstery
Decorative trimming (piping) on upholstery
Wooden Board on dash
Number Holder
Extension for back step for marathon
Waterproof cover for docs
Metallic or pearl paint
Box under front seat
Groom holder adjustable to 3 directions.