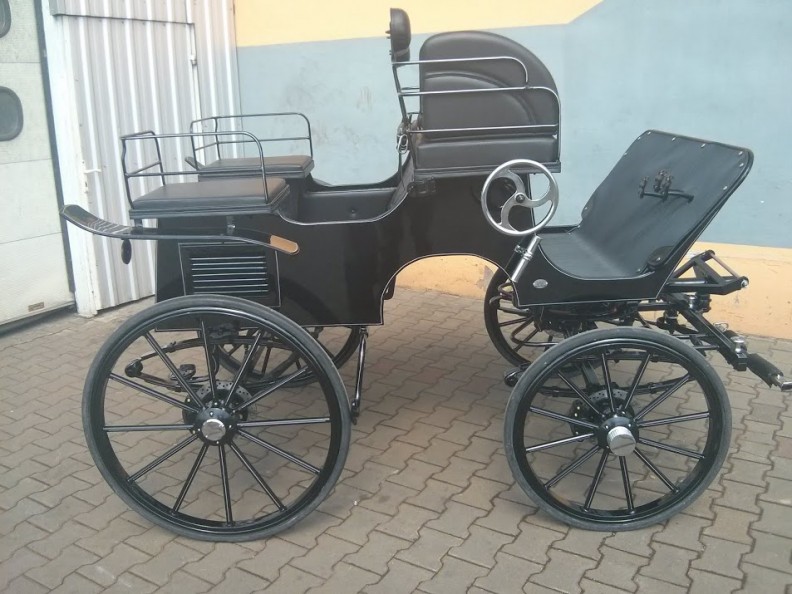 Sport Break Pony (SB30) Pair or four in hand carriage. From £6064
Suit 13-15.1hh  270Kg
Standard Details;
Carriage width 138cm
Wheels  with hard rubber tyres.
Spokes Painted Steel in 'A' Straight or 'H' Wooden Profile
Mudguards
Rear axle brakes with stainless discs and parking brake.
Pole 'op 6 a' with rubber suspension Torsion Arm or 'H' wooden pole.
Front seat flat bench or single wedge.
Back support on rear seats.
Chrome plated or brass furniture.
Suspension elliptical springs front and rear.
Options.(For prices please see "OPTIONS" page under Four Wheeler Options Prices.)
Stainless steel spokes
Front axle brakes
Turntable Brake
Delayed steering
Equaliser for swingles  in painted steel or in stainless
Pole in stainless steel.
Equipment for 4 in Hand wooden with stainless hardware. Material of attachment for 4-in-hand in Stainless.
Front seat flat bench divided into 3 cushions or Wedge and flat on side or wedge moving to centre
Upholstery Leather
Suspension front and rear Air
Accessories
carriage cover

Decorative stitching on upholstery

Decorative rein rail

Patent leather -shiny fenders

Patent leather – shiny dash

Metal Spindle Back Seat.

Box under legs wooden – upholstered

Metallic or pearl paint

Panels, stained natural wood