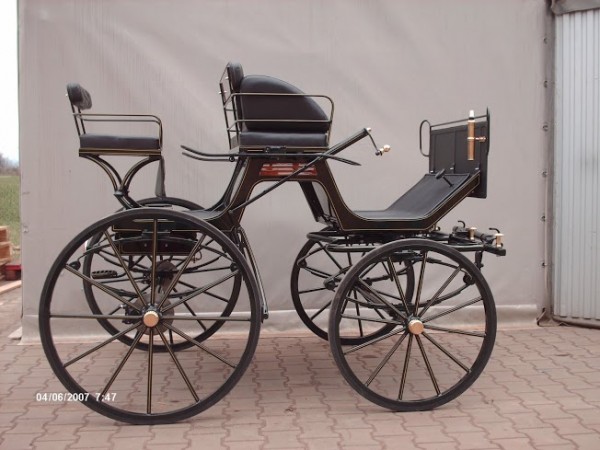 The Spyder Phaeton is a classic presentation vehicle for dressage and cones and also for showing. Suits 12 to 13.2hh ponies and weighs 220Kg. Price of the standard carriage is £5253 + VAT. Also available as a pairs carriage.
Standard Details.
Width 138cm.
Wheels, Front 65cm and rear 80cm with straight painted spokes and hard rubber tyres.
Steel Mudguards
Mechanical Crank Parking Brake or Hydraulic Valve.
Rear Wheel Brakes with Stainless Discs and pedal on Right hand side.
Independant shafts Choice of Wooden One Piece or Painted Steel Shafts with choice of T1, T2, T3, T4 tips.
Front Seat Flat Bench in Eco Leather "Gniot" or "Polonez"
Suspension Eliptical Leaf Springs front and rear.
Extras and accessories;
Front Brakes                                                                                                                     £211
Footbrake in custom position                                                                                       £120
Turntable Brake                                                                                                               £115
Equalizer for Swingles  (Pairs Carriage)                                                                     £45
Delayed Steering                                                                                                              £150
Stainless Shafts                                                                                                                 £135
Stainless Tips                                                                                                                    £120
Pole for pair in OP6 H Wooden or OP6 A steel painted with rubber suspension. £120
Stainless Pole                                                                                                                    £256
Equipment for 4-in-hand. Wooden with stainless hardware                                 £154
Front Seat Wedge on belt.                                                                                              £87
Leather Upholstery                                                                                                          £240
Air Suspension front and rear.                                                                                      £75
Carriage cover                                                                                                                  £133
Double Dickey additional seat                                                                                      £27
Custom shape of front dash                                                                                           £60
Decorative stitching on upholstery                                                                              £6
Decorative rein rail                                                                                                          £60
Pattern leather -shiny mudguards                                                                                £151
Pattern leather – shiny dash                                                                                           £60
Box under legs wooden – upholstered                                                                         £70.54
Panels, stained natural wood                                                                                         £6