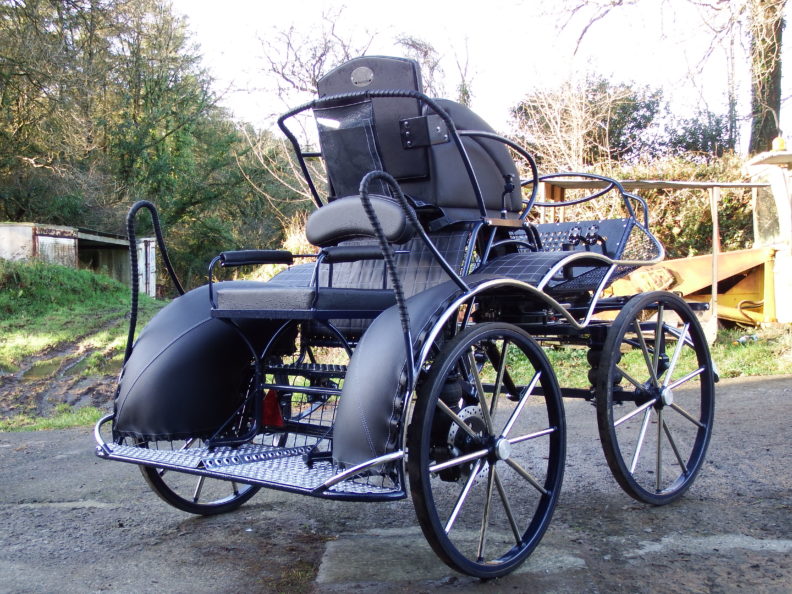 SOLD New Fox 4 Three Phase Competition Carriage
PRE-PRICE INCREASE STOCK
This carriage is a full 3 phase competition vehicle with the larger wheels to suit 14.2 to 16.2hh.  It has the special Kutzmann Anti Roll system on the rear axle for extra stability and safety when cornering hard. It is equipped with adjustable air suspension so that the ride can be suited to the terrain and hydraulic axle dampers to smooth out the bumps. Picture shows the Dickey seat in the transport position.
Specifications.
Extendable rear Axle 125 to 138cm
Hard Rubber Tyres
Kutzmann design Rear Anti Roll Torsion Arm
Independant Stainless Shafts and Competition eye tips.
Delayed (Slow motion) Steering.
Rear Brakes with stainless discs.
Dicky Seat for groom.(Stows backwards For Transport)
Stainless Spokes.
Turntable Brake.
Sports Turntable Bearing.
Adjustable Air Suspension with Hydraulic Axle Dampers.
Stainless Side rail.
Carriage Cover.
Decorative Stitching on upholstery.
Tags: Suits 14.2 to 16.1hh, Weight 220Kg