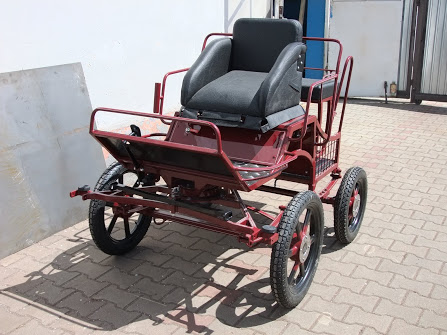 Cute (MN1) Shetland Pony  Four Wheeler. From £3139
To fit 8hh to 12hh Small four wheel lightweight carriage with pairs  option and extendable axle available for 3 Phase Competition.  Very Light weight suitable for Shetland or small pony. Suit 8-12hh  110Kg
STANDARD DETAILS:
Carriage width 125cm or 110cm.
Wheels.

Front.Pneumatic Knobbly or road type, spokes straight or curved painted.

Mudguards           Not available for this carriage.
Brakes.  Rear wheel, stainless discs and parking brake.
Shafts.   Independent, T1, T2, T3,or T4 painted.
Pole: Available.(Comes with either "U" shafts or independant shafts)
Seats:

Front.  Single wedge.
Rear.   Available.

Upholstery: Eco leather gniot
Suspension. Half elliptical.
Options Available. (for prices please see "OPTIONS" page under "Four wheeler option prices").
Carriage width   custom
Wheels.   Hard rubber
Spare wheel set
Spokes   Thin flat.
Spokes in Stainless
Brakes.   Front axle brakes
Turntable Brake. Pedal in front
Shaft tips.   Galvanised , Stainless
Shafts   Stainless
Pole    with 'U' shafts or Independant Shafts.
Front seat    Flat bench, or with wedge on belt. .
Upholstery   Polonez .
Accessories;
Stainless front (dash).
Stainless side pipe.
Stainless groom's handles.
Carriage cover .
Box under front seat.
Additional seat for groom dickey seat.
Custom shape of front dash.
Special colour of upholstery.
Strap on groom handles .
Decorative stitching on upholstery  .
Decorative trimming (piping) on upholstery.
Number Holder .
Waterproof cover for docs .
Metallic or pearl paint.
Extendable rear axle .