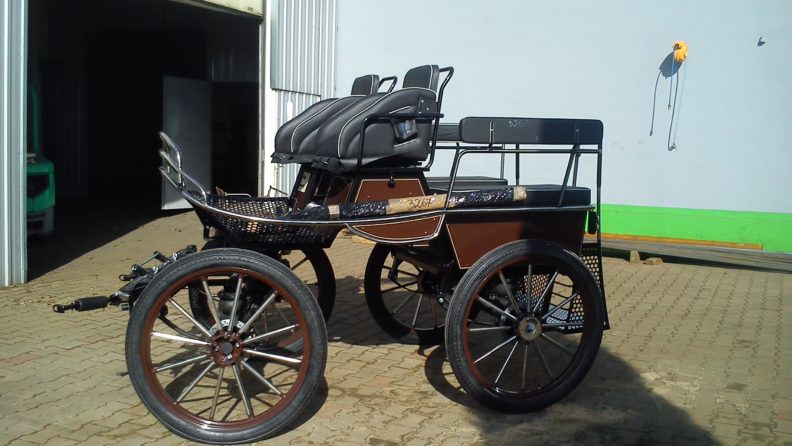 The Defender is a beautiful comfortable carriage for larger horses. Comes complete with shafts for a single and pairs pole at the basic price of £6865. Four -in-hand equipment also available. Many standard options at no extra cost and a large range of extras also available. Custom built for each client.
Standard Options.
Width 140
Pneumatic Tyres
25″ Pneumatic Wheels
Straight round or curved coated spokes.
Front and Rear brakes with stainless discs.
Hydraulic Parking Valve
"U" Shafts or Independent Shafts
T1, T2, or T3 type shaft tips.
Pole with rubber torsion suspension in painted steel.
Front seat either wedge with flat on side or flat bench.
Air suspension front and rear axles, or three point front and rear leaf suspension.
Colours of your choice.
Options at extra cost.
Carriage width 158cm
Carriage Width 148cm
Hard Rubber Tyres
29″ Wheels
"H" Style spokes
Stainless Spokes
Mechanical Crank Parking Brake
Turntable Brake
Reinforced Sports delayed steering
Delayed steering
Stainless Steel Shafts
Stainless Steel Shaft tips
Pole mounted on spring and shock absorber.
Stainless Pole
Two Wedge Front seats
Wedge moving to centre
Four wheel independent Air suspension with trailing link.
Accessories
Stainless front (dash)
Stainless side pipe
Stainless groom's handles
Stainless bumpers
Electrical lighting
Carriage cover
Sides in front on the carriage full plate with rubber
Suede seat surface on wedge (each)
Decorative stitching on upholstery
Decorative trimming (piping) on upholstery
Wooden Board on Dash
Door at the back of the carriage
Long cup for front hubs stainless steel
Metallic or pearl paint
Aisle between seats in front
Boxes under the rear benches