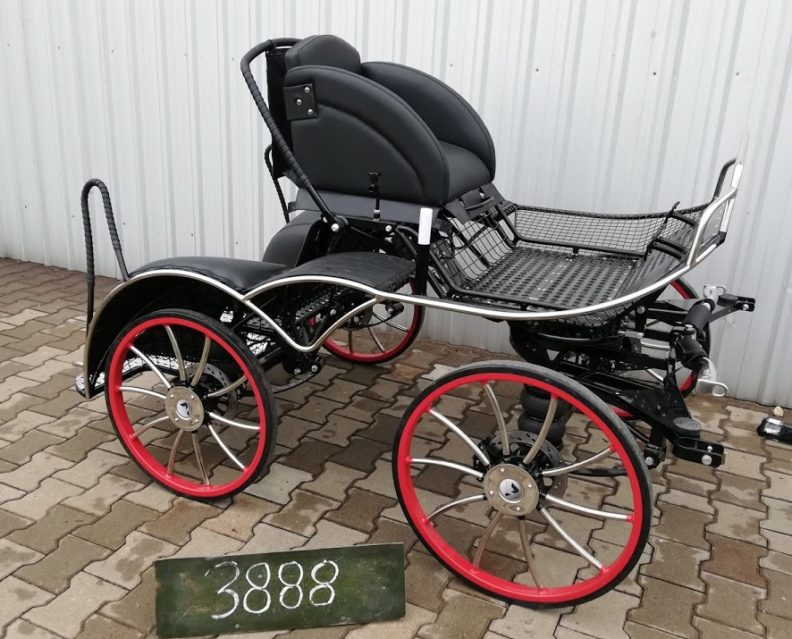 The Fox 5 FR is a variant of the very successful Fox 4. This carriage is designed for the smaller ponies. From 12.2hh to 14hh pair with the pole or 15hh Single. It can still have the patented anti-roll assembly fitted and with the addition of extending axles is a very rugged three phase competition carriage. Standard Version £5429. Weight of the basic carriage 164Kg. A pole for a pair is also available.
STANDARD.
Hard Rubber tyres on 65cm front and 55cm rear wheels.
Choice of Curved or Straight Spokes
Rear Axle Brakes with parking valve and stainless discs.
Independant Shafts with Marathon Eye tips.
3 Point front suspension with full eliptical rear springs.
Choice of Colours from the RAL chart.
Whip Holder.
Lamp brackets.
OPTIONS.
Pneumatic Tyres
Model 2//3 Spokes
Stainless Tips
Spokes in Stainless.
Spare Hard Rubber Wheel Set.
Front Axle Brakes
Turntable Brake Pedal in front or handle for groom
Turntable Brake Pedal in front and handle for groom
Delayed Steering
Pole For Pairs.
Equipment for 4 in hand. Also available in stainless
Swingles Equaliser
Air Suspension.
ACCESSORIES.
Rear axle anti-roll mechanism.
Stainless front (dash)
Stainless side pipe
Stainless groom's handles
Stainless bumpers
Carriage cover
Dickey seat
Extending rear axle
Custom shape of front dash
Strap on groom handles
Suede seat surface on wedge
Decorative stitching on upholstery
Waterproof cover for docs
Op11b Wheels Stainless steel
Decorative trimming (piping) on upholstery