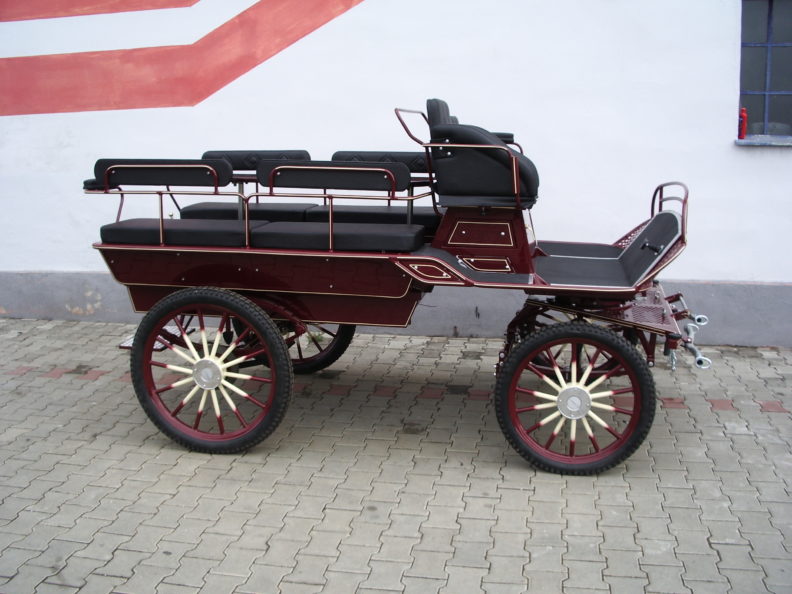 The Freedom 10 tourism Coach is designed for taking groups. It can have a slide-out ramp for wheelchair access and a cover with side windows for inclement weather. For single 18hh+ or Pair 15hh+.  £8711. Lighter than classic carriages with torsion suspension. Length of bench 190cm. Many options are available including lighting. Supplied in your choice of colours. More pictures at the bottom of the page.
STANDARD CARRIAGE SPEC.
140cm track
Pneumatic Tyres
25″ Wheels
Straight or Curved Spokes
Rear Brakes with Parking Valve
Pole (248cm long with 40cm extension) with rubber suspension and twin swingles.
Independant shafts or "U" shaft with choice of tips.
Front seats are wedge with flat on side or flat bench.
Torsion Arm Suspension
OPTIONS.
148cm Carriage width
Thin Flat, Double Straight or Double Banana Spokes
Stainless Steel Spokes
Spare Wheel Set of 4 Standard
Front Brakes
Equaliser for swingles in painted steel or Stainless
Stainless Shafts
Stainless Tips
Pole Mounted on sprung shock absorber
Stainless Pole
2 Wedge seats in front

Stainless front (dash)

Stainless side pipe

Stainless groom's handles

Roof for the carriage-only top part

Roof for carriage with side and curtains with windows

Sides in front on the carriage full plate with rubber

Custom shape of front dash

Special color of upholstery

Suede seat surface on wedge

Decorative stitching on upholstery

Decorative trimming (piping) on upholstery

Door at the back of the carriage

Aisle between seats in front

Speakers and multi-functional radio

Long cup for front wheels

Long cup for front stainless steel

Panels stain natural wood

Additional steps in front

Boxes under the rear benches