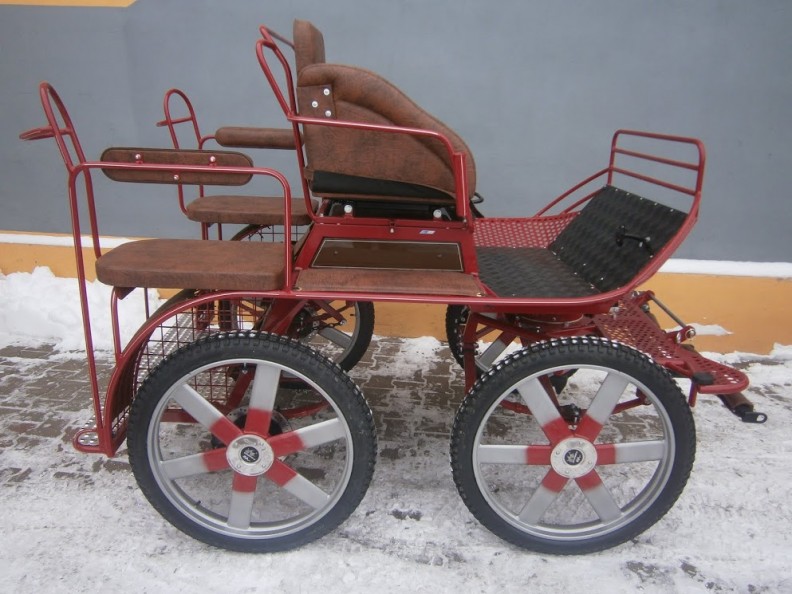 Horse Light Pair (HL2)  Pairs £5189 Competition or Pleasure Carriage WITH 4 IN HAND EXTRAS AVAILABLE. With the addition of extending rear axle and hard tyres it is suitable for 3 Phase Competitons.
Pair version of popular line of carriages. Light and suitable for all phases as well as for recreation driving. Comes with pole and shafts for a single. These can be "U" shafts or independent shafts. Suits 14.2 to 16.2hh. Weight 245Kg. Here's an interesting Video; https://youtu.be/xUsj5GucBOw
Standard Details;j5GucBOw
Carriage width: 125cm (OR 138cm £232)
Wheels: Pneumatic Knobbly  23″ or 25″ (Large size available) straight or curved spokes, Painted.
Brakes: Rear wheel, stainless discs and parking brake. pedal on RHS. Hydraulic valve parking brake.
Shafts: 'U' shafts, or independent with connector and swing T1 marathon eye tips, or T2,T3or T4. Painted. Shaft sizes IS3 or 4
Pole. Type op6 with rubber suspension torsion arm, Size D2 or D3 in painted steel.
Seats   Front PS1 Wedge and flat on side or PS5 Single wedge, or PS2 Flat Bench. Rear, RW Bench with fixed back support.
Upholstery: Eco leather gniot.
Suspension: SPR1 Three point spring system front and elliptical rear.
Options.
Wheels. Hard Rubber or PNNL Pneumatic Naturelink  £60
Spare Wheel Set hard rubber. £600
Spokes, Double straight, double banana, thin flat, Model E 2//3 or F Flat wide £67
Spokes Wooden Profile £135
Stainless spokes. £210
Brakes: Front axle brakes  £270
Parking brake MCB Mechanical crank.  £240
Turntable Brake: Pedal in front or handle for groom £126 or Both  £220
Turntable Brake Handle or Crank at the back with gauge £200
Delayed Steering.  £170
Equaliser for swingle painted £50 or stainless  £145
Shaft tips: TET telescoping with ertalon tip. £145
Tips in stainless  £130
Shafts: Stainless. £150
Pole  op6 B size D2 or D3 Mounted on shock absorber  painted  £210. With stainless head £90
Stainless Pole £290
Equipment for 4 in hand. Hanging type painted £130 fixed mounted with additional extension £140.In stainless £160
Front seat. PS3 2 Wedges in front.£110. op8 Wedge with spring underneath,£120 op5 Standard wedge moving to centre.£60 op5 op8 Wedge with spring moving to centre  £180
Rear seat: Benches with removable backs £70
Suspension:AIRSPR1 Air suspension front and rear  £150
Accessories.
Stainless front (dash) £443
Stainless side pipe  £236
Stainless groom's handles  £236
Stainless Bumpers  £60
Stainless Steel seat frame for single wedge  £360
Carriage cover  £210
Extendable rear axle  £740
Additional seat for groom dickey seat  £236
Wooden Board on dash  £40
Stainless Steel Wheels £2660
Strap on groom handles  £100
Suede seat surface on wedge  £120
Decorative stitching on upholstery  £55
Decorative trimming (piping) on upholstery  £55
Number Holder  £45
Waterproof cover for docs  £48
Long cup for front wheels  £60
Long cup for front stainless steel  £120
Metallic or pearl paint  £887
Box under front seat  £200