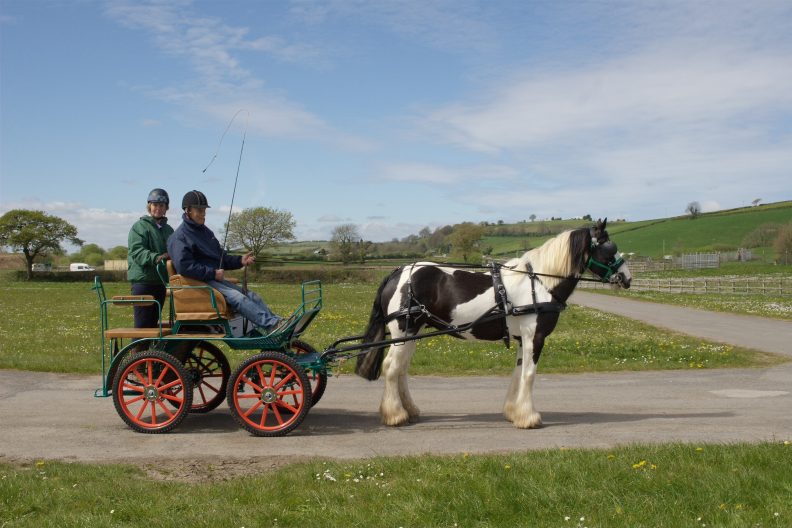 Horse Light Single (HL1). This carriage can be configured for 3 phase competition by adding the extending axle option and hard tyres or for Pleasure driving and other competitions. Suit 14.2 to 16.2hh Weight Standard 220Kg. From £5126
Standard Details;
Carriage width: 125cm OR 138cm at+£232
Wheels: Pneumatic Knobbly or Road. 25×3.00 (Larger sizes and hard rubber available).
Spokes Straight or Curved, Painted.
Brakes: Rear wheel, stainless discs and parking valve. Pedal on RHS.
Shafts: Independent with T1 marathon eye tips, or T2,T3or T4. Painted. Shaft sizes IS3 or 4
Seats   Front PS1 Wedge and flat on side or PS5 Single wedge, or PS2 Flat Bench. Rear, RW Bench with fixed back support.
Upholstery: Eco leather gniot.
Suspension: SPR1 Three point spring system front and elliptical rear.
Options.
Wheels. Hard Rubber.  £67
Spare Wheel Set, hard rubber tyres.  £532
Spokes. Double straight, double banana, thin flat . Model E 2//3 or F Flat wide  £67
Stainless spokes.  £210
Brakes: Front axle brakes  £270
Turntable Brake: Pedal in front or handle for groom.  £130.
Shaft tips: TET telescoping with ertalon tip. £145
Shafts: Stainless.  £135   Custom size  £67
Front seat. PS3 2 Wedges in front.£110
op8 Wedge with spring underneath, £120
op5 Standard wedge moving to centre.£60
op5 op8 Wedge with spring moving to centre. £180
Flat bench with wedge on belt £100
Rear seat: Removable backs £67
Suspension:AIRSPR1 Air suspension front and rear. £85
Accessories.
Stainless front (dash) £443
Stainless side pipe £236
Stainless groom's handles £236
Carriage cover  £210
Extendable rear axle £740
Additional seat for groom dickey seat  £236
Custom shape of front dash  £127
Special colour of upholstery  £236
Strap on groom handles  £100
Suede seat surface on wedge  £120
Decorative stitching on upholstery  £55
Decorative trimming (piping) on upholstery  £55
Number Holder  £45
Foot-rail stainless pipe  £157
Aluminium box under legs – for short people  £272
Box under legs wooden – upholstered  £120
Extension for backstep marathon £230
Waterproof cover for docs  £50
Long cup for front wheels  £60
Long cup for front stainless steel  £120
Metallic or pearl paint  £887
Panels stained natural wood  £209
Box under front seat  £170