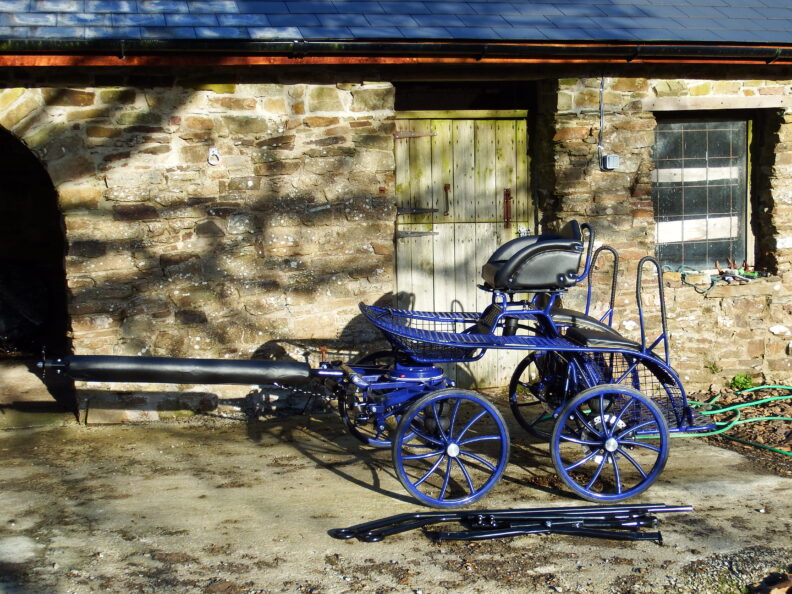 The Microfox is the most popular carriage for Shetland sized ponies. It comes with a Pole for a Pair and Shafts for a single. A very comfortable carriage with Air Suspension as standard. Many options are included in the price and there are many additional options available at extra cost. The basic price is £5473
Standard Specification;
125cm or 110cm width
Pneumatic 18 1/2″ O/D wheels or 45 or 55cm Hard Tyres.
Straight or curved spokes.
Rear Axle Brakes with parking valve.
Independant or "U" Shafts (120-160cm length) T1, T2, T3, T4 or T1m tips(see Options Page)
Pole for a pair with rubber suspension 138cm with adjustable 40cm extension.
Single Wedge front seat
Air Suspension.
Your choice of colours.
Additional Items;
Spare Wheels Set Hard Rubber £500
Front Axle Brakes £210
Turntable Brake £240
Delayed Steering £360
Stainless Shafts £110
Stainless Tips £120
Front Seat Wedge and Flat on side. £150
Stainless front (dash) £450
Stainless side pipe £100
Stainless groom's handles £100
Stainless Steel seat frame for single wedge £360
Extending  rear axle £750
Custom shape of front dash £130
Special color of upholstery £250
Strap on groom handles £100
Decorative stitching on upholstery £54
Decorative trimming (piping) on upholstery £54
Extension for back step £51
Waterproof cover for docs £48
Metallic or pearl paint £887