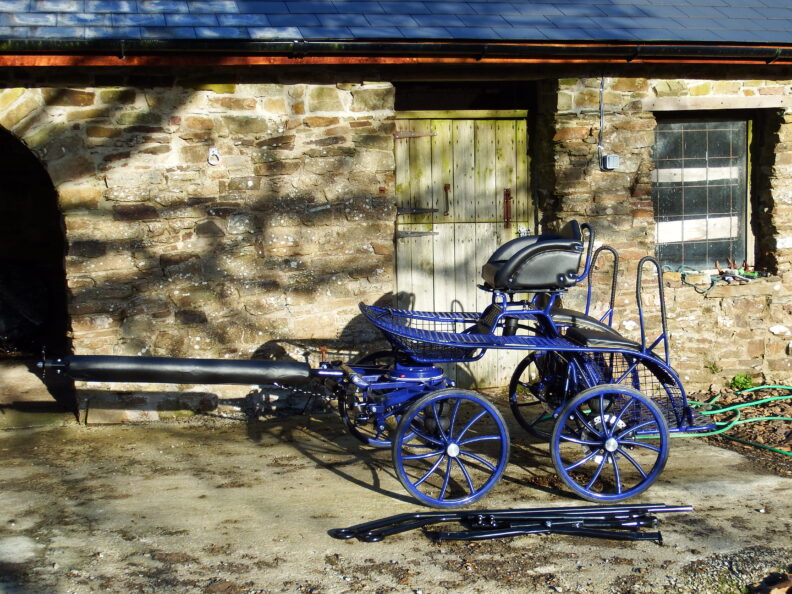 The Microfox is the most popular carriage for Shetland sized ponies. It comes with a Pole for a Pair and Shafts for a single. A very comfortable carriage with Air Suspension as standard. Many options are included in the price and there are many additional options available at extra cost. The basic price is £4722
Standard Specification;
125cm or 110cm width
Pneumatic 18 1/2″ O/D wheels or 45 or 55cm Hard Tyres.
Straight or curved spokes.
Rear Axle Brakes with parking valve.
Independant or "U" Shafts (120-160cm length) T1, T2, T3, T4 or T1m tips(see Options Page)
Pole for a pair with rubber suspension 138cm with adjustable 40cm extension.
Single Wedge front seat
Air Suspension.
Your choice of colours.
Additional Items;
Spare Wheels Set Hard Rubber
Front Axle Brakes
Turntable Brake
Delayed Steering
Stainless Shafts
Stainless Tips
Front Seat Wedge and Flat on side.
Stainless front (dash)
Stainless side pipe
Stainless groom's handles
Stainless Steel seat frame for single wedge
Custom shape of front dash
Special color of upholstery
Decorative stitching on upholstery
Decorative trimming (piping) on upholstery
Waterproof cover for docs