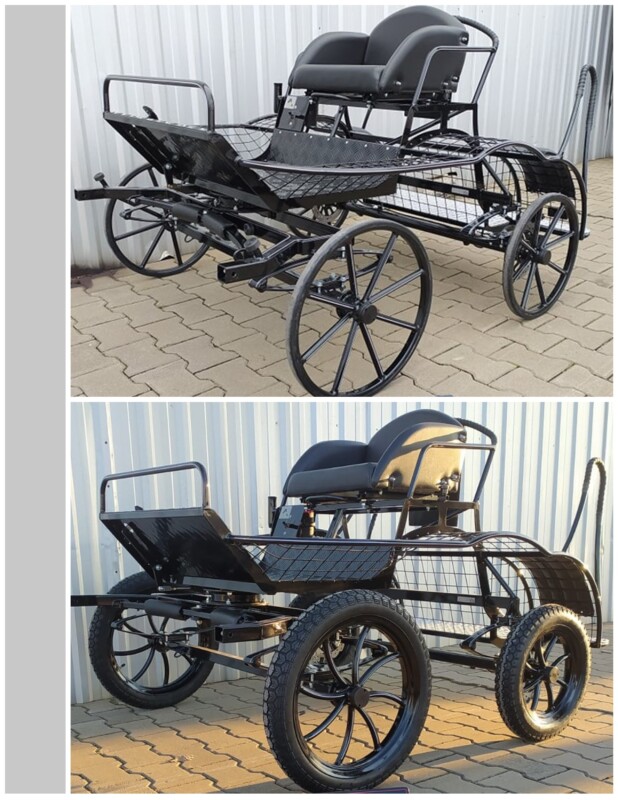 The Basic Squirrel Micro weighs in at only 95Kg plus shafts or pole assy. and is designed for the very small pony pair up to 8.2hh or Single up to 10.2hh. Extendable axle available for 3 phase. From £4560 for the pairs and single version. See the Squirrel in action here  https://youtu.be/lBhPua7gymY
STANDARD DETAILS:
125cm Wide
Hard Rubber Tyres
Rear Brakes with stainless discs and parking valve
Independent Shafts with marathon eye tips.
Rubber Torsion Mounted Pole for Pairs with swingles and Independant shafts for single.
Single Wedge Seat
Wheel sizes, Front 50cm dia., Rear 45cm dia.
Customer selects colours. (RAL)
Rear Groom Handles
OPTIONS. 
Pneumatic Tyres
Extendable Axle
Dickey Seat
Raisers for wedge seat
Turntable Brake
Stainless Shaft Tips
Stainless front (dash)
Stainless Side Pipe
Stainless bumpers
Carriage cover
Strap on groom handles
Suede seat surface on wedge
Decorative stitching on upholstery
Number Holder
Waterproof cover for docs
Metallic or pearl paint