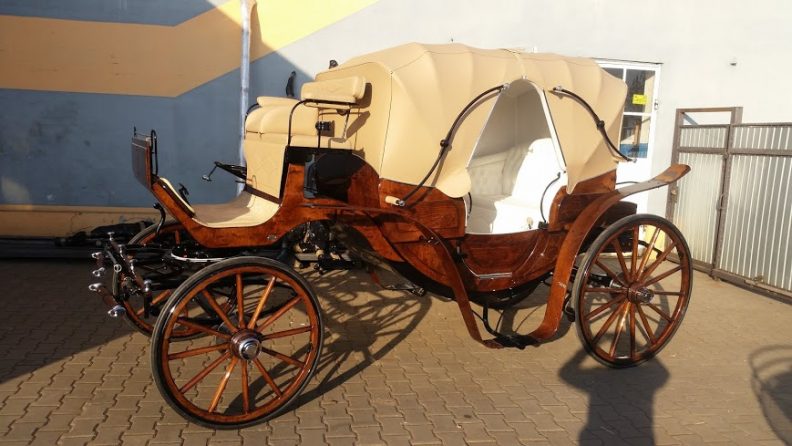 A luxury vis-à-vis traditional pairs carriage. Ideal for weddings and tourist attractions. From £16193
Standard Details.
Carriage Width 158cm
Hard Rubber tyres on steel wheels.
"H" Wooden profile or round spokes in steel.
Steel Mudguards
Front and rear brakes with parking brake.
Front Seat PS2 Flat Bench or PS1 Wedge and Flat on Side
Swingle equalizer.
Rubber mounted torsion Pole in steel or H Wooden Pole
Leather or Ecoleather polonez upholstery.
Chrome plated or Brass fittings.
Supplied with independent shafts for single horse.
Shaft Tips T2 Pleasure, T3 Holland, T4 Swan Neck or Wooden 1 Piece.
Elliptical springs front and rear.
Options.
Wooden Wheels £180
Stainless Spokes in steel wheels. £301
Turntable brake £226
Stainless Shafts £256
Stainless Tips £120
Equipment for 4-in-hand with Stainless Hardware £153
Extras.
Electrical lighting  £282

Patent leather -shiny mudguards.  £271

Patent leather – shiny dash  £121

Speakers and multi- functional radio  £347

Panels stain natural wood  £241

Odometer £196

Roof above the front part of rear seat  £1206

Wooden box case  £229

Plywood box  £153

Comfy armrest – holder for wine  £69

Window in front roof  £53

Window in the rear roof  £53