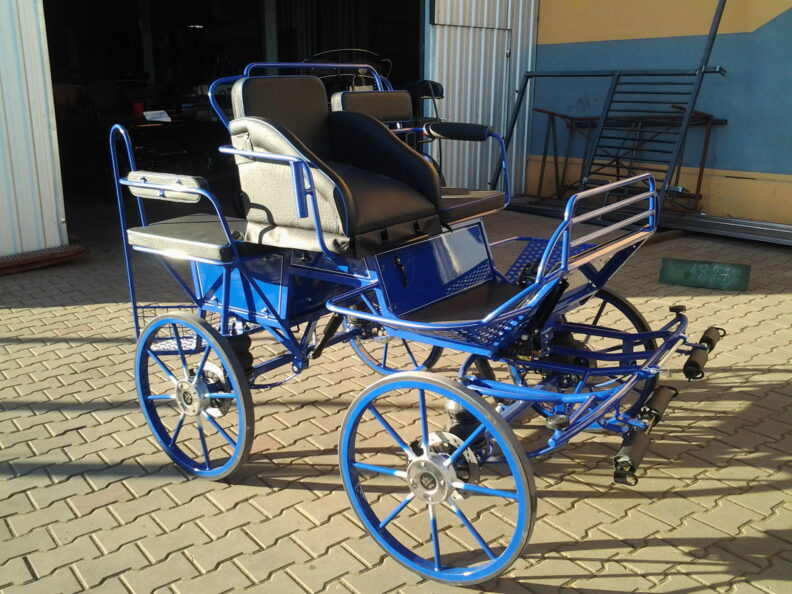 The Buteo is a lovely pleasure driving carriage for a pair of Shetland size ponies or a single up to about 14hh depending on wheel size. Standard with Pneumatic Tyres but hard tyres are available. £4523 for the standard carriage with many options available.  Weighs about 180Kg.
Standard Spec;
Standard Width 125cm (138 available)
19″x 3.00 or 16″ x 3 pneumatic wheels. (21″x 3 available)
Straight or curved spokes.( See OPTIONS page)
No mudguards (available as an option).
Rear axle brakes with stainless discs and pedal on right.
Parking Valve.
Pole for pair.
"U" shafts or independant shafts, with adjustable tips.
T1, T2, T3 or T4 tips (see OPTIONS page)
Front seat Bench.(not recommended).
Back support or not on rear bench seats.
Suspension semi-elliptical springs front and rear.
Options;
138cm Carriage width
Hard Rubber Tyres
21″x 3.00 pneumatic wheels
Spokes C,D, E, F or G (see OPTIONS page)
Stainless Spokes
Flat metal mudguards
Steel half round mudguards
Front Axle Brakes
Turntable Brake
Delayed steering
Equaliser for swingle tree.£50 in stainless
Front Seat Wedge and flat on side (PS1)
Front Seat Bench with wedge on belt.
Air Suspension with hydraulic damping front and rear
Accessories;
Stainless front (dash)
Stainless side pipe
Stainless groom's handles
Stainless bumpers
Stainless Steel seat frame for single wedge
Carriage cover
Sides in front on the carriage full plate with rubber
Special color of upholstery
Strap on groom handles
Suede seat surface on wedge
Decorative stitching on upholstery
Decorative trimming (piping) on upholstery
Number Holder
Footrail stainless pipe
Aluminium box under legs – for short people
Door at the back of the carriage
Long cup for front wheels
Panels stain natural wood
Metallic or pearl paint  (charge for each colour)