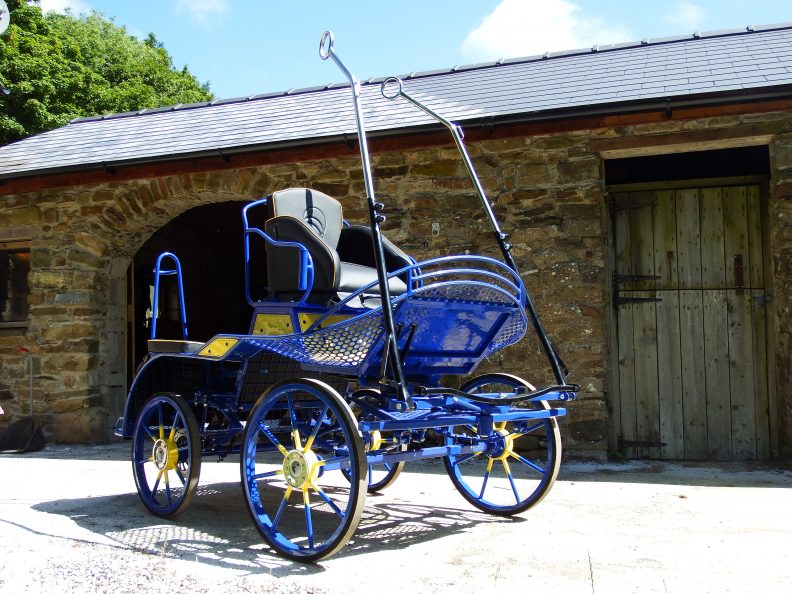 SAVE £613 New Mini Duo Single Pony 3 Phase Marathon Competition Carriage New. £3806
PRE-PRICE INCREASE STOCK
Mini Duo Single Pony (MD15S) 3 Phase Marathon Competition Carriage for 12.2 to 13.2hh Pony. £3806. Free Delivery Mainland UK.
This carriage is fully equipped for 3 Phase marathon Competitions.
Fitted with the following;
Hard Tyres,
Turntable Brake,
Competition Turntable Bearing
Delayed Steering,
Stainless Steel Shaft tips,
Extendable rear Axle
Whip Holder
Decorative Piping on Upholstery
Rear Brakes with Stainless Discs.
Suspension is 3 point semi-elliptical front and elliptical rear suspension for strength and stability on rough ground and through obstacles.
The delayed steering means that the carriage more accurately follows the pony without the usual "cutting-in" through cones and obstacles making it easier to obtain a clear round.
It is available for immediate delivery.
Photos below show a 13.2hh pony in the shafts.
Tags: Suit 12.2 to 13.2hh